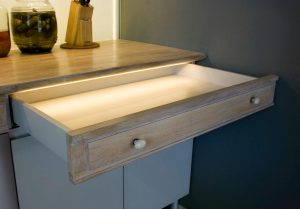 LED, or light-emitting diode, lighting is fast becoming the norm in homes and businesses throughout the world. Property owners and builders increasingly are turning to the likes of LED equipment and fixture manufacturers to bring the efficiency and savings these lights can provide to every room.
In fact, according to the U.S. Department of Energy, the installation of LED lighting can cut energy costs by as much as 75 percent. In addition, LED lights can last a good 50 percent longer than old fashioned incandescent lights.
LEDs also bring a whole new level of versatility to lighting. Interior designers and manufacturers have joined in bringing an artistry of light to new and heretofore unimaginable uses. LED lighting long has been used, for example, to brighten rooms with under-the-counter light, recessed lighting, and even chandeliers. Now it is being added to faucets and shower heads to create streams of colorful water. LED wallpaper is available, as are center pieces for the table as well as in the tables themselves. The light system also has added to personal safety and protection by illuminating bicycle wheels, umbrellas, and animal harnesses.
Even with these ever expanding benefits, many have been slow to completely adopt LED lighting into their homes and businesses. This likely is because the lights so far have been more expensive on the initial investment end due to a higher cost of production.
Invention is intervening to end that limitation and revolutionize the production of LED lighting. Engineers recently have developed a method of LED manufacturing that uses inorganic materials in combination with organic, which then is dissolved to make a solution that virtually can be painted on. The result is a material that will shine a blue, red, or green light and that can be used to make a light bulb or strip.
The new process saves money in production because it only needs one layer to achieve the desired effects. Current production techniques typically involve stacking four or five layers onto each other to attain the same results.
The inventors of the new system say this could completely revolutionize the production of lighting for home and industrial uses. One product they continue to work on using this new technique, they said, is to create active-matrix, organic LED screens that are stretchable.